Why Social Media Can't Replace a Business Website
---
A lot of people might disagree with this, but it's true. A smart business does NOT rely on social media alone. 
Maybe you recognize the need to have some online presence but don't believe a website will make that big a difference to your business — especially if you're profitable already.
Perhaps you've been running a successful business for some time, with good revenue and brand loyalty, all from Facebook or Instagram alone. 
If so, good for you.
But smart businesses? They are the ones constantly prepared and actively searching for new growth opportunities. For that, you need a website. 
Luckily, Hocoos AI builder can create your website quicker than it takes to read this article. Just answer 8 simple questions about your business, and the Hocoos AI will build your website in under 5 minutes.
---
Does My Business NEED a Website?
Maybe you're a small business that has never sold online before or only offers services in a localized area. If this sounds like you, you're probably wondering why you need a website (even if it is built by AI). 
Because 82% of people looking for a product or service start (and end) their search online, mainly through their smartphones. 
At the very least, you need to have a website with the basic contact details for your business. If not, you're losing customers to competitors that do have one.
Millions of online shoppers look for everything, from shampoo and conditioner to holidays and houses. So while you are sitting here wondering if you need to be online, your competitor is wondering how they ever managed before getting their own AI website. 
"But what about my Instagram account or my Facebook profile?" you protest. 
"Don't they count?" 
No, they don't. Let me explain. 
Do I Need A Website If I Have Facebook / Instagram? 
It's pretty standard nowadays for businesses to rely on Facebook and Instagram as their main business platforms. As I mentioned, many do very well and are thriving from it. 
Facebook and Instagram do help promote growth within their platforms. That's because you can use them to build a larger audience and gain valuable market insights,
No one is saying they aren't helpful tools, but they also come with their own limitations. As a business owner, you don't get any of the control, autonomy, or insight that comes with your own Hocoos AI website. 


Here are 4 reasons why social media can't replace a business website.
1. It's Not 'Your' Social Media Page
Maybe Mark Zuckerberg wakes up on the wrong side of the bed and decides to pull the plug on Facebook and Instagram. Your sole business presence, contact channel, and client list are gone instantly. 
This might be an extreme example, but it highlights the often overlooked fact that you don't own any part of your online business if you only use social media. If they decide to make changes that affect your business, there's nothing you can do. 
When you have your own website, you're in charge. 
2. Social Media Can Be Restrictive. 
Social Media might be great at bringing the world together, but be honest; it isn't your first stop when searching for a local plumber, is it? 
People use search engines over social networks whenever they need answers. In fact, Google handles over 3.5 billion search queries daily for one reason; because it gives the best results (for now…).
A business website puts you in line to be found by customers doing online searches for products or services similar to yours. Even if you can't compete with bigger businesses, you can optimize your own website to be found through local searches, such as through Google Maps. 
3. Social Media = Short Attention Spans. 
Social media is a massively competitive place full of businesses fighting for customer attention. 
And those attention spans are pretty short. Those platforms rely on it, showing you post after post, photo after photo, advert after advert, hoping to find something attention-grabbing. 
Keep in mind that these are meant to be 'social' sites, too; many users find adverts on these sites annoying or distracting and tend to ignore them entirely. That means you are already at a disadvantage. 
What's more, you must compete with your potential client's Facebook friends. Many people find advertisements annoying, especially when they want to interact with friends, making them ignore your business posts or ads.
Getting them there might take a while, but once they find your website, you've won. With nothing else to distract your visitors, a website's potential for turning them into new customers only increases.
4. Websites Build Trust
Having a business website helps give your customers a sense of confidence and adds legitimacy to your online business presence. When it comes to buying things online, customers need to trust you. 
So while it might be quicker and easier to create a social media page, it won't command the authority or generate the trust that comes with a business website.
So What Are The Benefits Of AI Built Business Websites?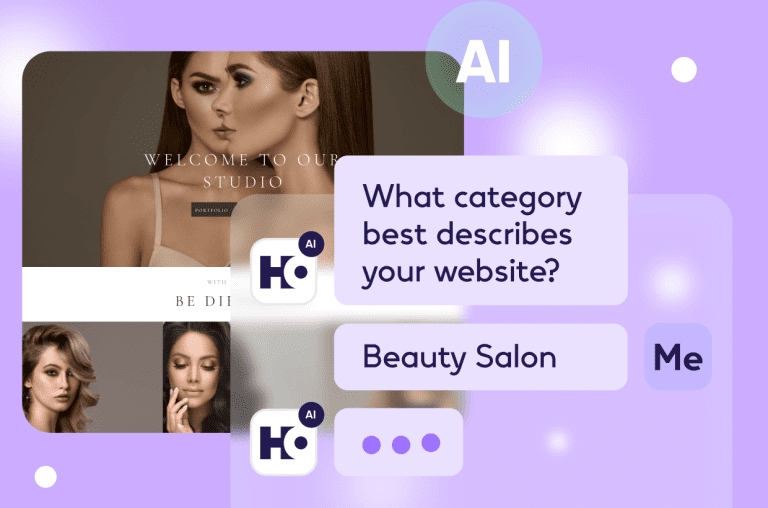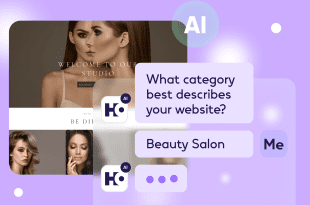 Now I'm not saying you shouldn't have social media pages for your business – quite the contrary. They are powerful tools to help support and promote your website, not replace it.
An AI website offers loads of benefits for any business, hobby, or side hustle. 
Here are the 8 advantages to creating your own AI website. 
1. It Looks Professional
Anyone can create a social media page for free in no time at all. This accessibility means it carries less credibility. 
In most people's minds, creating a website is still expensive, complicated, and time-consuming (Shhh, I guess they haven't heard of Hocoos). 
A Business website tells potential customers you're professional and credible.
2. It's Your Ideal Customer Destination
Social media is an effective way to advertise your business and create an audience. 
Still, your website is where you want them to end up. After all, an effective business website is where you'll inspire your audience to take action and become customers.
If they like your social media, visiting your website is the next logical step in their customer journey. If they can't find your website, they're sure to find your competitors. 
3. It Makes You More Visible
4.5 billion active internet users are making 3.5 billion daily online searches. 90% of them do so from their smartphone. 
The post-pandemic effects of COVID-19 mean more people are moving online to a digital market than ever. If you don't have a website, your business simply does not exist for these customers. 
Considering Hocoos AI creates your free website in under 5 minutes, seems silly not to really, doesn't it?
4. It Keeps Local Business Alive
Some people can  be a little suspicious of change, and think things like the internet mean the death of small local businesses. 
However, getting online can be a lifeline for some businesses, providing an extra revenue source to help keep a local business alive. 
Without a website, that's a lot of lost potential revenue. 
Here are some pretty impressive numbers.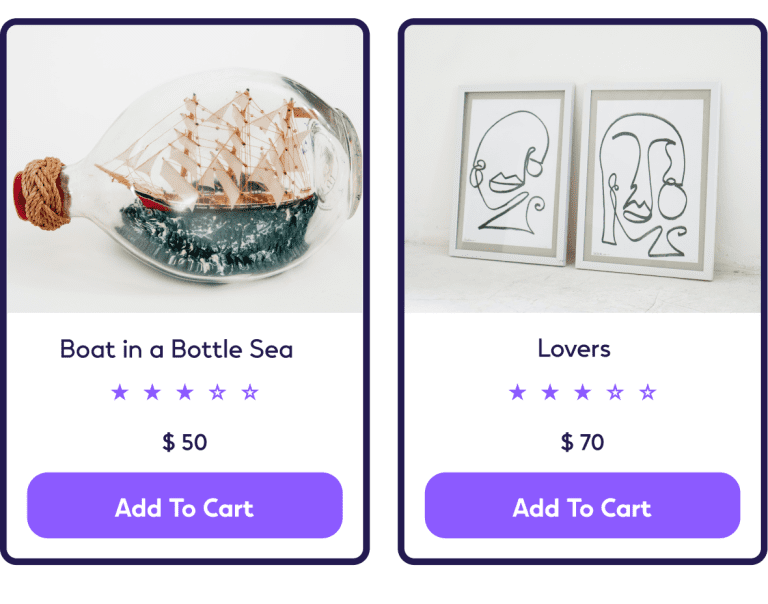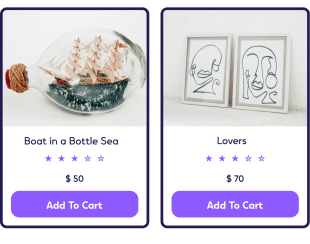 5. It's Your 24/7 Online Store
Online sales continue to grow, with eCommerce projected to hit over 5.7 trillion USD by the end of 2022. That's all money straight from customer wallets to business websites. 
No matter what product or service you're selling, an online store can help attract new customers. It also means you can keep selling, even when your physical store is closed.
Letting artificial intelligence create a business website might be the smartest decision you've made this year.
6. Simplifies Customer Service.
A good website should be customer-focused and contain all the information they need to make a purchase. 
That means they don't need to call about location, hours of operation, and other simple questions, saving you time and money on customer service while still providing help. 
7. You're In Control 
You can do what you want when you have an AI website, unlike social media pages, where you're restricted by their rules and preferences. 
Use whatever medium you want, from user reviews and blog posts to videos, images, and audio clips; you're the boss. 
Also, when you have your own AI built website, you're safeguarded against policy changes or social media blackouts that could affect your business. And finally… 
8. Creating a Website is Easy (with AI)
When asked why they hadn't created a website, the number one reason business owners gave was the belief it was too difficult and expensive to create an effective website. 
Not anymore… 
With Hocoos AI website builder, everything's simple. Our AI wizard creates your website by asking 8 quick questions about your business, and that's it.
It also uses those answers to create custom text, images, and designs for your site you can actually use (rather than some random junk).
Oh, and you get an online store, blog, bookings, hosting, custom domains, etc, for just $15 a month.
And did we mention, you can build an AI website quicker than it took to read this article?
FOLLOW us
and find the tips and tricks you need to succeed.