The Instagram Marketing Guide. Improved Revenue Through Increased Reach
---
If you are here, then I'm sure you're no stranger to online social platforms. In fact, it's likely you are one of the 4.62 billion people that have signed up with some type of social media or another. 
From socializing to shopping, banking to booking haircuts, it all happens online. With that in mind, is your business getting the most from its social media marketing? 
Instagram in particular is a powerful tool for improving engagement and increasing revenue. Embracing Instagram and creating a digital marketing strategy is a reliable way to business growth. 
---
Why should you use Instagram? 
Many. Potential. Customers.  
As the world's second most popular social media platform, Instagram has over one billion monthly users. More than 140 million users are from the US, and over 80% of them have purchased a product or service they found on Instagram. 
Imagine the benefits of opening a shop on the high street with millions of people passing by every day? That's the potential that comes with a well-curated Instagram account (and a free website, built by AI in 5 mins).
Help Them Picture Your Product 
A recent survey found that Instagram was the preference for 9 out of 10 social media users when shopping for products and services.
Of those, 75% had purchased a product they found through Instagram in the past 12 months. 
Connecting great product visuals with the right audience is something Instagram is very good at, so get posting and take advantage!
Find & Keep Customers 
A powerful marketing strategy can transform followers into one time buyers into long-term customers. Instagram gives you the ideal landscape to build these sort of social strategies over time.
Why? Because 90% of Instagram users follow at least one brand. Building consistent, informative, and engaging content can create long-term relationships that transform an audience into customers. 
Creating your Instagram marketing strategy

 
So you are probably wondering why posting pretty pictures of your product or service needs a marketing strategy. What's the big deal, right? 
In an attempt to build a following, many people fall into the trap of randomly uploading photos with no clear goal in mind. Instead of planning content around their brand and customers, they post without any plan at all. 
Sometimes they'll get lucky and see some growth, but without a strategy, that growth will slow and eventually stop altogether. The bottom line is simple: you can't afford to wing it when it comes to Instagram growth. 
An Instagram marketing strategy is crucial to any business looking to gain new customers. It provides clear goals, helps analyze and improve your efforts, and ultimately helps achieve your desired outcomes. 
Simply put, your strategy is a big deal. 
1. Set up an Instagram business account
First thing's first. Before creating your digital marketing strategy, you must set up an Instagram business account for your brand. Follow our guide here, and you'll be done in minutes. It's super simple. 
Once you've created your business account, you'll need to update some profile settings. Make sure;
Your profile is public, so everyone can check your posts and interact with your brand. 

You encourage communication and allow all users to leave comments & messages. 

You turn on notifications, so you are constantly up-to-date with everything happening on your profile. 
2. Define your goals 
I've mentioned this briefly as something you'll need to consider for any digital marketing strategy. Figuring out precisely what you want to achieve with your efforts is crucial in developing a solid strategy with any chance of success.  
When setting your marketing goals, you need to look objectively at Instagram and what it can help you achieve. Here are some examples that might help you in setting your own goals:
Introduce your offer to the world: Showcase your services or products creatively and consistently.
Increase brand awareness: Give your brand personality and allow potential customers to easily find and engage with it. 
Share brand news & updates: Strengthen your communication by developing an easy-to-follow news channel for your brand. 
Boost trust: Use social media to increase brand loyalty and trust among your target audience. 
Build a community: Bring together people with a common interest in your brand's products and services.
3. Define your buyer persona
Now that you've set your marketing strategy goals, it's time to focus on your audience. Every step you complete successfully will take you closer to meeting or even exceeding your expectations. 
Defining your buyer persona means knowing your audience. And knowing who you are selling to is a big step in the right direction, as you can begin the personalization process.
Each image you post on Instagram, each ad text you create, and each promotion you set up should be based on the preferences and profiles of your buyers. That is if you want them to succeed, of course. 
4. Dig into your competition 
You know the phrase a little friendly competition never hurt anyone? Well, when it comes to competitor research, it's 100% true. If the grass looks greener on the other side (which should be clear from their follower numbers), look at what they're watering it with.  
Stop aimlessly scrolling through Instagram and turn it into helpful competitor info that inspires your market strategy. Start doing your homework right. Check your competition, and understand what they want to achieve and how they are doing it. 
It's important to study your findings and adjust your brand accordingly. Focus on sending out a unique message that speaks about your brand in the ways that best represent your business.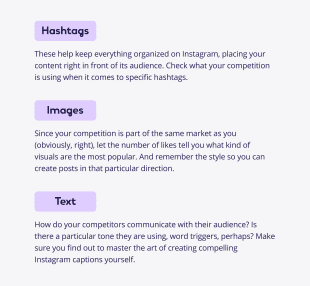 5. Consistent aesthetics & optimized profile
This one may sound a bit more complex, but it's basically a fancy way of saying keep it consistent. When posting from your business account, pick a vibe and stick with it. 
If you've decided on a path, design & text-wise, you can't go around changing it like you're a fashion runway. Stick to an aesthetic you feel best represents your brand, stay true to your voice, and optimize your profile. 
Yes, but what does it mean? Consistency in design means finding a way to reflect your brand on your Instagram account. Your website color palette will help greatly here, as will the fonts you choose. 
An optimized profile means providing your audience with good information about your business and helps to build trust. So, mind your bio. Keep it short, informative, and catchy. 
Add your brand's website, contact details, and even a CTA, which can be as simple & straightforward as Buy or Shop. Insightful, consistent & professional, that's how you want your profile to be seen by visitors. 
Tips & tricks
The Bio treasure
Keep this in mind when searching for simple, practical digital marketing tips. Your Insta bio should contain a link to your website. Depending on your marketing goals, you can always replace that website with a landing page with a more specific goal in mind. 
Let's say you are running a discount campaign to increase the number of shoppers. You've developed a landing page dedicated to this goal. Now put that address instead of the website for as long as you run your campaign. 
Have fun with hashtags
If you're on Instagram, you are probably already well aware of the power of hashtags. It might seem a bit daunting to create hashtags. We're not going to lie. Sometimes it can be. But is it worth it? 
Short answer, yes. Hashtags increase brand awareness by giving your audience a fun, super fast way to spread the word and contribute to your popularity. 
So, put in a bit of effort and create your brand's hashtags. You won't be sorry. 
Post chess, anyone? 
Because of the grid pattern Instagram uses to display your brand's posts, you have the unique opportunity to give your visitors a fun visual ride. 
Think of your profile as a chessboard; your posts are the pieces. Move them around until you get an easy display on the eye. The checkered board with dark and light images is always a good option. And there's the puzzle-like feed, creating one picture out of several posts. 
Unfortunately, there is no bulletproof Instagram marketing guide. However, there are many ideas you can test before eventually building a complete strategy that fits your brand. 
The only Instagram marketing tip that matters is to keep your mind open and test ideas, yours and that of your competition while maintaining the look and feel of your brand. 
Happy Instagramming, and good luck!
FOLLOW us
and find the tips and tricks you need to succeed.