The Best AI Website Builders 2023
Have you ever tried to make a website from scratch? If so, you've probably felt like you're trying to decipher an alien language. HTML, CSS, JavaScript… sounds like a series of secret codes, right?
Maybe you even considered hiring a professional website maker, like a professional designer or a coder, only to realize you'll need to sell your kidney on the black market to pay for it.
Well, my friend, welcome to the future – a future where Artificial Intelligence (AI) is the hero you never knew you needed!
Let's embark on a journey to compare the top 10 best AI website builders in 2023. No coding skills or bank-breaking budgets are required here – just a sense of adventure and a keen interest in making your website-building dream a reality!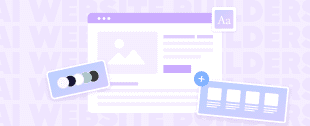 What is an AI website builder?
Let's dive into this ocean of web design and find out what an AI website builder is.
Think of an AI website builder as a maestro conductor, leading an orchestra of design and technical elements to create a symphony called your website.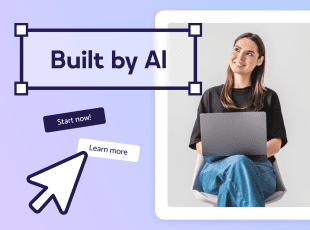 Fueled by the firepower of artificial intelligence and machine learning, these maestros take the wheel, turning what was once a complex process into a smooth ride.
These AI maestros don't use any old sheet music. They use the language of your brand and business to create a unique composition that reflects who you are.
Forget about generic, cookie-cutter designs that require you to fit into their mold. With AI website builders, it's all about creating a digital platform tailored to your vision.
Why use an AI website builder?
Considering using an AI website builder, or wondering what the best AI website builders have in common? Here are 4 excellent reasons that will make you say "Sign me up!" in no time: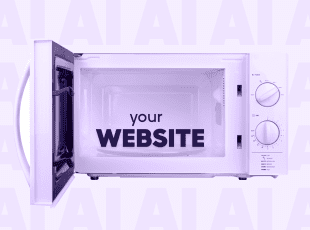 1. Lightning-Fast Speed
AI website builders are here to save your day and your time. They can help you create a stunning website faster than a microwave heats your leftovers.
Say goodbye to the long and confusing journey of building a website from scratch. You'll be up and running with AI website builders in a blink.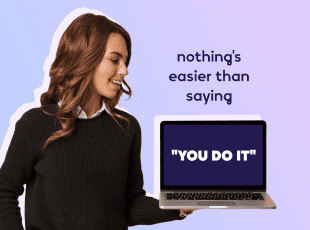 2. Absolute Ease of Use
AI website builders are your friendly neighborhood guides, making the website creation process as smooth as a walk in the park.
They come equipped with intuitive drag-and-drop interfaces and a whole lot of design options. Even with no coding experience, creating a website is a breeze.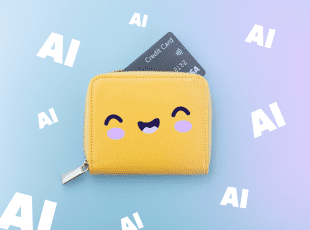 3. Cost-Effectiveness That'll Make Your Wallet Happy
AI website builders are your budget-friendly alternative to pricey web designers and developers. They're often way more affordable than having someone else create a custom website for you.
This means you can divert your savings to other areas of your business. It's like having your cake and eating it too!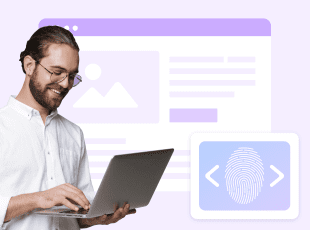 4. Customize To Make Your Website Uniquely You
With most AI website builders, you can customize your website to reflect your unique brand personality. Whether it's uploading your own images, playing around with colors, or choosing fonts that speak your style, the power is in your hands.
The Best AI Website Builders
Got an idea for a business or side hustle? Great, then here are some of the best AI website builders available to help turn that idea into a reality:
1. Hocoos 
Ok, so we may not be the most objective, but we're pretty proud of what we have created here at Hocoos (with a LOT of help from our Beta tester heroes).
The process is quick and simple, but the results are significant. To get started, you just need to answer 8 quick questions about your business. Our super-smart AI takes your answers and uses them to create an entire website in seconds.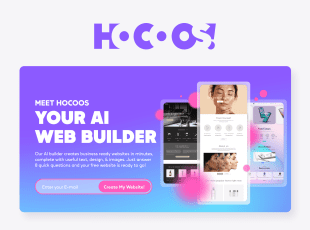 Not only do the answers you give guide our AI in building the website, but it also helps it create custom-written content that you can actually use (no useless Ipsum Lorem here).
When it's ready, you can try other AI tools, use the editor to add your products and services, or make any last finishing touches before hosting it online!
While Hocoos is free to try, upgrading to a premium account gives you access to a whole host of features, including:
Stripe/PayPal
Connect your Stripe or PayPal account to take online payments for your products and services!
Shutterstock Images
Our Shutterstock integration gives you access to millions of images that will make your website pop!
Increased Image Uploads


Enjoy unlimited image uploads and bring your website to life!

Custom Mailbox


Create and connect a professional custom email address that matches your domain and impresses your visitors!

Campaign Sending


Get more leads and grow your business with targeted email campaigns!

Increased AI Usage


Unleash the full power of AI to craft amazing content for your website!

Marketing Integrations


Expand your reach and attract more customers with our complete suite of marketing integrations!

Domain Purchase


Create and connect a custom domain, and stand out in the crowd!
BONUS – If you've already created a website with Hocoos, sign up for a yearly Premium account today, and not only will you get two months free, but we will also pay the registration costs for your free custom domain name!
Pros
With Hocoos AI, there's no need for any design or coding skills. 

Offers a lot of customization options, allowing you to create a website that truly reflects your brand

Provides a powerful e-commerce platform with impressive marketing abilities. 

Has a lot of features, including a blog, a booking system, an online store, and more

Fast, friendly, knowledgeable customer service that's 100% human
Cons
The ability to create websites quickly and easily may initially overwhelm some users. 

No more excuses not to start your business, as Hocoos makes websites for every passion or profession. 
Overall, Hocoos is the best option for individuals and small businesses that want to start a small business or side hustle but have been put off by the cost, time, or complexity associated with making a website.
Its powerful AI wizard and super simple web page editor mean anyone can make a website and launch it online in minutes. With Hocoos, creating a professional-looking business website's never been quicker or easier.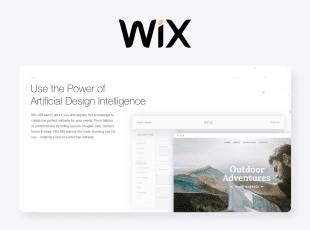 2. Wix ADI 
Wix has been one of the most popular website builders on the market for a while now and with good reason. Users need to answer a range of questions to generate a fully-designed website using Wix Artificial Design Intelligence (ADI).
Wix ADI will prompt users to specify the type of website they want to build and the features they want to include, such as forms, commenting, or live chat. Users can then choose a theme, select a homepage design, and add new landing pages to their site.
Pros
From personal use and freelancing right up to enterprise, Wix has a pricing plan for you, no matter your needs. 

Like Hocoos, this AI web builder lets you create a fully-functional website by answering questions.

You can scale your website by adding Wix apps to introduce new functionality, such as a live chat or member registration.
Cons
Wix ADI has limited options for customization when compared to its traditional website builder. 

Wix will display ads on any websites created with its free plan, and no option to add a custom domain name either. 

8 different pricing plans with their own features and benefits can confuse customers. 
Overall, Wix is a great option for individuals and small businesses that want a lot of flexibility regarding design and features. 
However, the number of options may overwhelm some users; sure, they have a free basic plan, but it's limited in features, and the paid plans may not be suitable for those on a tight budget.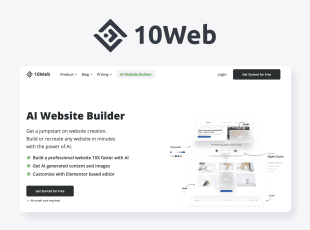 3. 10Web
10Web is an AI-powered website builder that is specifically designed for WordPress users. Built on the Elementor platform, it offers a block editor similar to WordPress with additional security features, back-end optimization, and AI tools.
This website builder platform provides a high level of customization, allowing you to install WordPress plugins to enhance your existing website's functionality further. For example, you can easily integrate the WooCommerce plugin to create an online store.
Pros
Users can perform back-end optimization like caching and image compression to increase their website speed.

10Web has great security features, like regularly scanning for malware on your website and offering a free SSL certificate. 
Cons
10Web has limited ways to pay, allowing purchases with credit cards and PayPal only.

All 10Web plans have super limited server storage and traffic plans. 

Users must install third-party plugins to create online stores, as there is no built-in eCommerce functionality. 
10Web is a great option for individuals and small businesses. It lets you import existing pages, which is great for people who already own a website.
However, this website builder has a lack of storage, payment options, and e-commerce functionality that might prove problematic for people looking to grow their business online.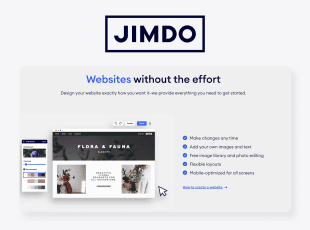 4. Jimdo Dolphin 
Jimdo Dolphin is an AI-powered version of the Jimdo website builder that offers a faster and easier setup process. It enables users to create a fully-customized, multi-page website for free.
To start building a new website, users simply need to describe their goals, project, and preferred color scheme. Based on this information, Jimdo Dolphin creates an AI generated website with two different templates to choose from.
Pros
Jimdo Dolphin offers a free plan with basic features such as mobile optimization, contact forms, and up to five website pages.

The free plan includes a 2 GB bandwidth limit, more than some other AI tools on our list provide.
Cons
The online store functionality is only available in the eCommerce plan, starting at $15/month.

While Jimdo offers a built-in logo maker tool, the website builder lacks many basic content creation AI tools.

For more in-depth customization, users must switch to the regular Jimdo Creator, which can be more complex to use.
Jimdo Dolphin offers a fast and easy setup process, allowing users to create fully-customized, multi-page websites for free. 
However, the lack of content creation tools and the requirement to switch to the regular Jimdo Creator for more advanced customization may limit its flexibility compared to other options.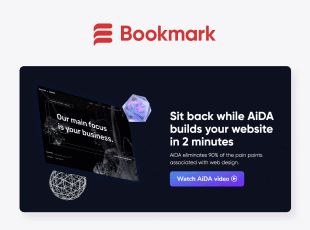 5. Bookmark AiDA
Bookmark Artificial Intelligence Design Assistant (AiDA) is a feature-packed website builder designed for online shops and blogs. 
It offers comprehensive eCommerce features and functionalities, including tax calculation, shipping automation, discounts and promos, and inventory management. It provides built-in SEO (search engine optimization) and AI tools to help drive more traffic to your website.
Pros
Bookmark AiDA seamlessly integrates with various third-party online stores, such as Facebook and Instagram marketplaces, Google Shopping, and eBay.

You can easily add new users and set custom permissions to manage your website better.
Cons
The online store functionality is only available in the Business plan, which costs $24.99/month.

Some customization options in Bookmark AiDA may require coding knowledge.

Bookmark AiDA only allows users to create up to three email addresses per account.
Bookmark AiDA is a feature-rich website builder that provides advanced AI tools for those creating websites, blogs and eCommerce sites. Its social store integration, multi-user collaboration, and high-performance hosting offer a comprehensive solution for online businesses.
However, the higher cost of the eCommerce plan and the learning curve associated with certain customization options may be drawbacks for some users.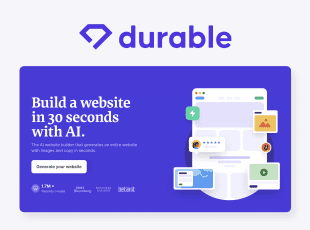 6. Durable
Durable might be one of the new website builders on the market, but it's already proving popular. This website builder can create a basic website with just few clicks, and comes well stocked with some helpful AI tools.
Pros
You can create a basic one page website with Durable with just a few clicks.

This AI website generator guides new users in learning its features.
Cons
This AI website builder can only create business and eCommerce websites.

Durable's websites are a little low in quality compared to other website builders.

The AI websites created are far from a finished, needing a lot of time to edit.
Overall, Durable is a great option for individuals who want to try creating a basic website very quickly . However, the lack of customization in design and layout leave a lot to be desired for people looking to create a serious website.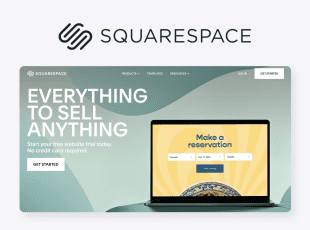 7. Squarespace
Squarespace, a well-known name in the website-building world, now offers a robust AI-powered website builder. The AI tool generates a unique and customizable website by simply answering a few of Squarespace's targeted questions.
Squarespace AI Builder offers a variety of templates and customization options. It allows users to define their website's purpose and desired features, such as a blog, online store, or portfolio and then generates a website structure based on these inputs.
Pros
Squarespace AI Builder offers a plethora of sleek and professional templates suitable for various industries.

The platform is renowned for its outstanding customer support, which is available 24/7.

Squarespace allows for considerable customization, allowing users to tweak their website's design to fit their brand.
Cons
The AI builder's customization may still require a learning curve for absolute beginners.

Unlike some competitors, Squarespace doesn't offer a free plan.

The e-commerce features, although impressive, may not be as comprehensive as specialized online store platforms.
Squarespace's AI Builder is a fantastic tool for individuals and businesses seeking a polished and professional online presence. It offers an array of templates and a high level of customization. 
However, beginners may find the customization process somewhat challenging, and the absence of a free plan might deter those on a tight budget.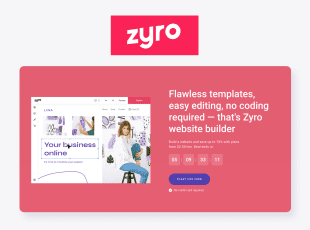 8. Zyro
Zyro is an emerging player in the website-building landscape, distinguishing itself with an AI-driven approach. It focuses on simplicity and speed, allowing users to build a website rapidly using the AI Website Builder.
Zyro's AI Website Builder prompts users to select their website type and preferred design elements. It then uses this information to generate a website template that users can customize further.
Pros
Zyro's AI Website Builder is incredibly user-friendly and suitable for beginners.

It offers competitive pricing plans, including an affordable entry-level option.

Zyro has integrated AI tools such as a logo maker and slogan generator, providing additional value.
Cons
Zyro's template library is not as extensive as some competitors.

The AI builder lacks some advanced customization options.

While Zyro offers e-commerce functionality, it's less robust than specialized e-commerce platforms.
Zyro's AI Website Builder is an excellent choice for those prioritizing simplicity and affordability in creating their website. The additional AI-driven tools also add a unique value proposition. 
However, businesses requiring advanced customization or robust e-commerce features might find Zyro's offerings somewhat limited.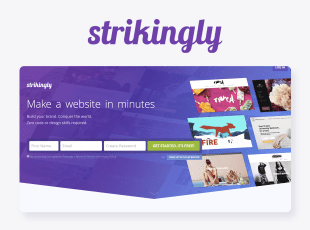 9. Strikingly
Strikingly is known for its simplicity and efficiency, enabling users to build beautiful one-page websites. Its AI website builder takes the usability factor to the next level, allowing for swift website creation with an intuitive, question-based process.
Strikingly's AI tool generates a personalized website by answering a series of questions about your business and desired website features. You can then customize it further to meet your needs.
Pros
Strikingly's AI builder is user-friendly and ideal for beginners.

It allows users to create unlimited free sites, a rare feature among website builders.

Strikingly's built-in analytics tools provide valuable insights into website performance.
Cons
The one-page focus may not suit businesses requiring a more complex site structure.

Advanced customization options are somewhat limited.

E-commerce features are basic and may not be sufficient for full-scale online stores.
Strikingly's AI Website Builder is perfect for individuals and small businesses wanting to create an attractive, straightforward website quickly. Its built-in analytics is a notable plus. 
However, the one-page-centric design and basic e-commerce capabilities might not cater to everyone's needs, particularly larger businesses or full-scale online stores.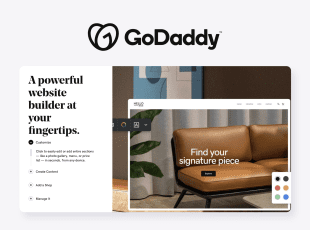 10. GoDaddy
GoDaddy, a domain registration and hosting industry giant, also offers an impressive AI-powered website builder. The GoDaddy AI builder creates a customized website by guiding users through a series of simple questions about their business and design preferences.
Once the AI generates the base website, users can further refine it using GoDaddy's intuitive drag-and-drop editor, making customization a breeze.
Pros
GoDaddy's AI website builder is beginner-friendly and straightforward to use.

It offers robust SEO tools, which can help your website rank better in search engine results.

GoDaddy provides 24/7 customer support, ensuring assistance is always at hand.
Cons
Customization options are less advanced compared to some competitors.

Some users might find GoDaddy's upselling of other services during the website creation process annoying.

Despite offering e-commerce capabilities, it's less powerful than specialized e-commerce platforms.
GoDaddy's AI Website Builder stands out for its ease of use and robust SEO features, making it a viable choice for anyone new to website builders and keen on improving their online visibility. 
However, its somewhat limited customization options and aggressive upselling tactics can be off-putting for some users. The e-commerce features, while available, are not as comprehensive as on dedicated e-commerce platforms.
---
So, there you have it.
AI has come a long way over the last 12 months, and website builders are slowly but surely starting to benefit. Sure, there's always room for improvement. After all, Artificial intelligence is only as good as the human ingenuity that works with it.

That's why we here at Hocoos are always striving to make our AI tools even easier to use, while producing incredible results. We listen closely to all our users, so that together we can create an AI website builder that works for everyone.
When choosing an AI website builder, consider the features mentioned above to ensure you select the best option for your needs, but if you've read this far, then we advise you save yourself the time and head straight to Hocoos.com.
Our AI wizard will create your absolutely unique website in seconds. All you need to do is answer 8 quick questions. It's free to try, and the whole process takes less than 5 minutes. So, what have you got to lose?
---
FAQs
What is an AI website builder?
An AI site builder is a website creation tool that uses artificial intelligence and machine learning to automate the website creation process.
It uses pre-designed templates, drag-and-drop interfaces, and other tools to help you build a website quickly and easily.
How does an AI website builder work?
An AI website builder uses artificial intelligence and machine learning algorithms to automate website creation. It analyzes your input and makes recommendations based on your preferences.
Are AI website builders easy to use?
Yes, AI web builders are typically very easy to use. They often come with drag-and-drop interfaces and pre-designed templates that make it easy to create a website without any coding experience.
Can AI website builders create e-commerce websites?
Yes, many AI website builders offer e-commerce integration, making it easy to sell products or services on your website.
What are the benefits of using an AI website builder?
The benefits of using an AI site builder include speed, ease of use, cost-effectiveness, and the ability to customize with ease.
FOLLOW us
and find the tips and tricks you need to succeed.